It has been an eventful 30 days.
I was a guest with Rob Finnerty of Better Kansas City TV on July 15th providing travel safety and pickpocket prevention tips. Along with "borrowing" a few items from Rob.
Ten days later I was the guest of Joel Nichols and Michelle Davidson on Kansas City Live. We talked about protecting your purse and wallet, along with other travel safety tips. I demonstrated by asking Joel to be my volunteer and lifted a watch from his wrist and a wallet from his left front pants pocket. The hosts from both shows were wonderful to work with.
Later that day, I worked a Variety the Children's Charity event where I met Danny Duffy, the Royals pitcher (just days before he threw a Royals Franchise record of 16 strikeouts). His reactions were great, and I even got the chance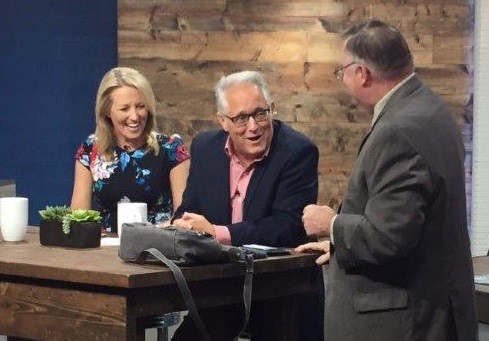 to place a ladies watch onto his wrist without him knowing. There is a short video on my Facebook page "Pickpocket Gene" with some of his reactions. Since the person recording the video didn't know I loaded the watch, they cut the video just before I revealed this to everyone. If you look closely at the video, you will see he wasn't wearing a watch, and then right before the end of the video, a watch appears on his right wrist. I developed loading a watch onto someone without them knowing and switching watches from one person to another, I think it is one of my favorite pickpocket feats. Although taking a business tie from someone without them knowing is pretty cool as well.
In the afternoon I did some magic with the Missouri Mavericks Mascot. It was interesting having a three pawed mascot hold objects and react to the magic taking place.
After leaving there I had speaking several engagements on identity theft risk reduction, travel safety and pickpocket prevention. I entertained with some up-close magic for a grand opening, "Where's Waldo" event and another charity fundraiser.
August first was a great day! I teamed up with "Movie Trip TV" and Theresa O'Leary to shoot a series of five videotapes on back to school travel and pickpocket safety. The videos were uploaded daily from Monday, August 8th through Friday, August 12th. Listed below is a link and description for each video.
Video #1 – purse safety
Video #2 – wallet safety
Video #3 – money belts
Video #4 – electronic pickpocketing

video # 5 – airport security: wallets, purses and valuables
On Tuesday, August 2nd, I made the front page of The Examiner newspaper with the headline: "Pickpocket Gene" – "Oh, Yes, He Can" with a subtitle reading "Magician can swipe your watch and then tell you how not to be a victim". It is a great article and has a large picture on the front page of me holding up a ladies watch. A few minutes later I got the watch again without her knowing. The online article can be found at this link.
Early in the morning on the same day, I headed for Las Vegas and the Black Hat Conference to draw a crowd to the Absolute trade show booth. For more details, check out my other Recent Happenings Post.